Athena's Lament

Light Art Piece
"Athena's Lament" is a light-art piece produced using LED, 3D-printing and 3D-modeling technology. I hand-soldered and hand-assembled the LED matrix and wrote Arduino code that would allow the video to play on this custom-shaped LED display powered only by an Arduino Nano. The outer layer of the piece is a 3D-scanned model of an ancient Greek frieze that I algorithmically glitched and then had industrially 3D-printed.
Conceptual Context:
From 1801 to 1812, Thomas Bruce, also known as the Earl of Elgin, facilitated the removal of nearly half of the sculptures and reliefs from the Parthenon in Athens Greece despite questionable proof that he was given full permission to do so. Not long after being brought back to his home of Great Britain, the sculptures were acquired by the British Museum. Just twenty years later, when Greece gained its independence from the Ottoman Empire it began a campaign to repatriate the Parthenon Marbles that has continued at varying levels of intensity to this day. Nonetheless, the British Museum and the British government continue to show no indication they intend to honor these requests.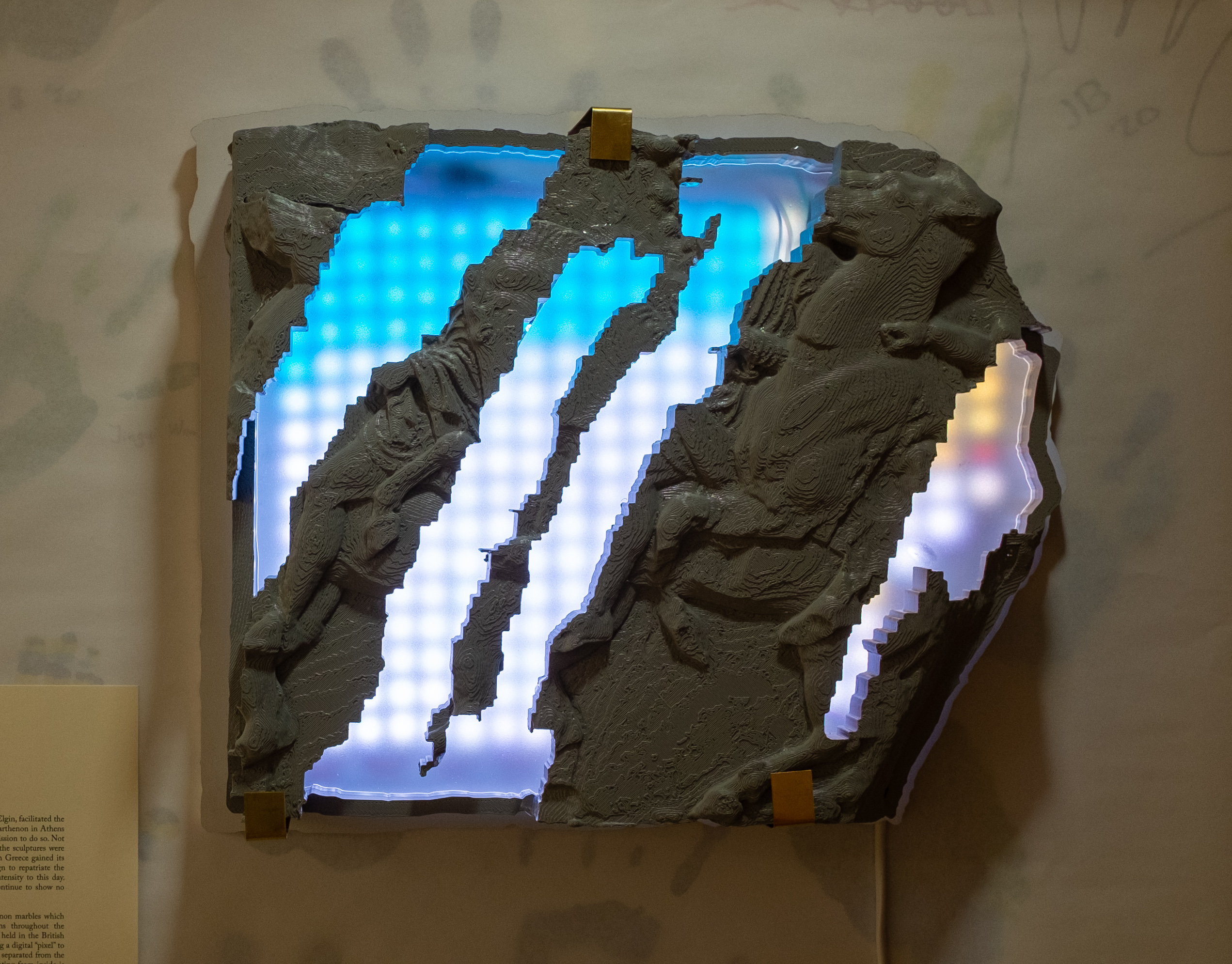 "Athena's Lament" offers a critical look at art like the Parthenon marbles which make up problematic colonialist art and artifact collections throughout the western world. It is based on a 3D scan of a Parthenon relief held in the British Museum. The cracks were generated by algorithmically applying a digital "pixel" to the surface of the relief for every week that the work has been separated from the cultural and historical context of its country of origin.

Emanating from inside is the "spirit" of the work, represented by an abstracted video of the Greek coast, that is slowly leaking out due to this separation. And by leaving the 3D-printed structure of the work bare, it draws additional attention to the way in which the existence of this 3D model represents a further colonization of the relief; by scanning it and generating this model the British Museum extend their control of the artwork into the digital space in addition to the physical one.